Hannah Weinberger
We Didn't Want To Leave, 2019
Video- and Soundinstallation
Courtesy the artist and Gallery Fitzpatrick
*1988 in Filderstadt, Germany
lives in Basel, Schweiz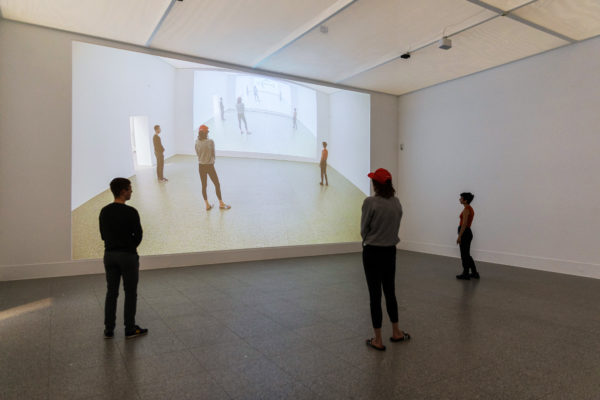 Hannah Weinberger develops spaces of experiences, sound and video installations, that she conceives as complete compositions. we didn't want to leave is constantly changing. An algorithm produces an endless series of new sounds. Unique each time, they resound in the space and cannot be reproduced.
In her artistic practice, Weinberger is interested in entering into an exchange with the particular environment and achieving a subtle, yet palpable break with familiar perceptions.
we didn't want to leave only exists when visitors are present. Silence dominates the room until the first person enters it. In collaboration with various experts, Weinberger has developed a sensory installation that can detect when a visitor steps into the room and responds to the way in which they move inside it. This activates sensors, and Weinberger's synthetic compositions are played, controlled by an algorithm. It is solely the presence or participation of visitors that triggers the sounds. The importance of the audience is further strengthened by a video installation that films the viewers and projects images of them while they explore the space. The projection seems to expand into infinity while the volume of the sounds changes with the visitors' movements. A minimalist composition fills the rooms, transforming the audience into an orchestra. In this experimental yet precise way, an interactive installation is created: the work ultimately becomes a soundtrack that is composed by a large number of people and accompanies its participants. Weinberger creates a space of possibilities that visitors can use creatively and shape. A mechanism that is scarcely noticeable despite its complex technology produces an immersive experience: visitors can allow themselves to drift in the flow of sounds and movements, letting themselves be carried away by the musical waves that they generate. At the heart of the work, however, is the experience and the moment. It is this unrepeatable moment that gives the work its ephemeral, elusive character.
Miriam Barhoum
Hannah Weinberger studied at the Zurich University of the Arts, where she graduated in 2013 with a Master of Fine Arts (specialization in media arts). Early on in her artistic career, she presented her work in numerous solo and group exhibitions at home and abroad. She has been on the board of the Kunsthalle Basel since 2013. She is also a lecturer at the University of Art and Design in Basel.
In her artistic practice, Weinberger is interested in entering into an exchange with the particular environment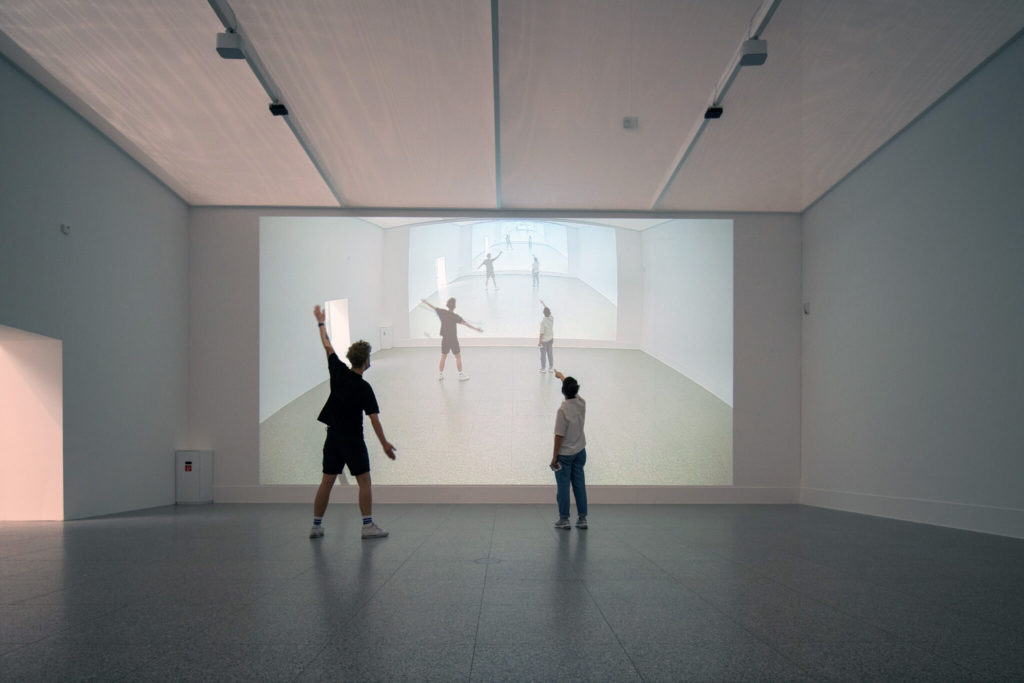 ---